Gogglebox, the programme that made TV watching fun, is back for a 5th series (or season as it's known in the US) on Channel 4 tonight at 9pm.
A massive success since its debut in 2013 here in Britain, we just can't get enough of our favourite telly watching couch potatoes sitting in their living rooms, watching television programmes and films and talking about them, candidly and openly. Gogglebox has made for compelling and insightful television. And with a compelling and entertaining show, comes the true-to-life personalities that make the show the fan- favourite commercial and critical hit it is today.
And those personalities can be found listed below this post.
Here are my favourite people that have appeared on and starred on Gogglebox, in order of preference, along with some of my favourite lines from the series:
1. The Moffatt's - Scarlett especially; Scarlett: on Take That's Gary Barlow avoiding tax: 'this is the only interesting thing I've ever heard about him. This is Gary's idea of being a rebel'. On the good- looking Canadian magician on Britain's Got Talent: 'so a bunch of Hungarians won it last year. And now we've got a Canadian. Britain has no talent'. On Stevie Richie doing 'Footlose' on X Factor: 'he's just one of those creepy men that if he came up to you in a bar, you'd tell him to f*** off'.
As series 4 went on, I found Scarlett to be one of the most interesting people on Gogglebox & a highlight of the show; witty, amusing with some cracking one-liners. The Moffitts have been a surprise hit last series, and mostly due to Scarlett. I could see her as a proper stand-up comedienne, when and after this show ends.
2. Sandy and Sandra - when Sandy tried to use a whip and it hit her in the face, when Sandy tried to do a catwalk showing off her clothes and fell over, Sandy to the rat: ''oi, piss off!'', 'we can do it, we just need more time' on Countdown. So loud, raucous, happy yet hilarious at the same time, thanks to Sandy. As OTT as their reactions to shows are sometimes, it's part and parcel of their bright and colourful personalities.
In addition to their love for food and ordering take-aways every night. Although mind you, I'd worry about a case of type 2 diabetes, given all that junk food they consume.
3. Chris and Stephen - Stephen: 'Beyonce and Solange, put the 2 together and what do you get? Blancmange. Stephen: 'I want some bitty', Chris: 'don't be gross'. Stephen: 'I'd get one star and that's my dinner sorted. f*** the others', Chris: 'That's because you're selfish'. Quirky, funny, camp but not too camp in a way that comes across as off-putting. I like that they enjoy mucking about and having fun, and not taking everything too seriously. Which is good for a series like this; especially during times when the show becomes too serious. Stephen is hilarious whereas ex-partner, Chris's reactions are cute and endearing.
4. Leon and June - Leon: 'he's a dickhead', 'can't stand him', 'he's an idiot', 'she's too thin'. 'Very attractive Nigella. Well busted', *June rolls her eyes*. Gogglebox is about watching people watching telly and commenting about it, but the show also has a range of people from different backgrounds and hailing for different generations. I love Leon and June - Leon acting like a mischievous little boy and long-suffering June rolling her eyes in despair at the things that come out of his mouth.
They seem to be very down-to-earth people and in a sense, they have defied the stereotype of the elderly being ignorant, narrow-minded, only caring about their own interests as an old couple. When they criticised UKIP, I couldn't help but have a smile on my face.
5. Stephanie and Dom - they've become more tolerable. I didn't like them in the first series, but over time as the series went on, they have eased up and are not as 'stiff upper- lipped' as they were when the show first began. They've also toned down the snideness as well, in regards to their personality. Which rubbed me up the wrong way during series 1 and 2. Always have a glass of booze in their hands. Steph on the Full Monty: 'Must remember that when I next go to the Co-Op'; Dom on BBC1 David Attenborugh programme: 'anyone want a shag?, anyone want a shag?'; Dom and Steph on Dr Christian on Alan Carr: Chatty Man: Dom: 'He's funny. He's got a sense of humour'. Steph: 'well you'd have to if you were looking at knobs all day' (referring to Dr Christian being homosexual)
6. The Siddiqui's - Baasit on Mastermind: 'It's like, when the camera is on you, look as if a family member has died'. The Siddiqui's and the Tappers are the two most normal sets of people on the show. It's good. The Siddiqui's aren't boisterous, over the top and loud - and that is a good thing. And their dry sense of humour has worked wonders. It's definitely what this show needed.
Jenny and Lee - Newcomers in series 4, we haven't seen much of them on screen. But from what we've seen so far, I like them. They are nice people. Hope to see more of these 2 in series 5.
David, Kai and James - see Jenny and Lee
7. The Vicar Kate and husband, Graham - Kate on Noel Edmonds buying the BBC: 'you can't expect to be the saviour of the BBC if you can't even pay the TV licence'; On internet trolls jailed: 'wow, how bad does it have to be for them to go to prison for 2 years? Someone called me a b**** midget the other day'. A lot of viewers dislike her, but I actually find her to be a breath of fresh air for the show; Kate is outspoken, tends to hit the nail on the head with her views on various matters, and won't shy away from expressing what she thinks.
Even though she is a reverend, and religion is a topic that sometimes divides people, she hasn't come across as being narrow-minded to me or said anything so far that has annoyed me so far, anyhow. She tells it like it is, without being a religious bigot.
8. The Woerdenwebers & Silent Jay - Ralph: 'I can't get my head around why guys wear female clothes', Viv: 'there's a photograph with you in a bra', Ralph: 'yeah, after 50 pints'. Like any other normal family but it is Eve's boyfriend, Jay who has been receiving the most attention out of the lot, given he hasn't said a word whilst onscreen. It would be nice that in series 5, we will see Jay break his silence and talk, although I wouldn't keep my hopes that high. They seem nice, nonetheless.
9. Linda, Pete and George - Linda: 'you wait until they realise they have knackers in their mouths'; I was a little disappointed that they had to leave the show, due to George taking part in Celebrity Big Brother on Channel 5. I liked them. Linda was amusing at times, Pete was lively.
10. The Tappers - see the Siddiqui's, although Amy needs to calm down a bit. She can be quite a handful and is very hyperactive. The mother, Nicki and the daughter, Amy are the loudest of the lot, compared to the son, Josh and dad Jonathan. Yet I find them to be all right.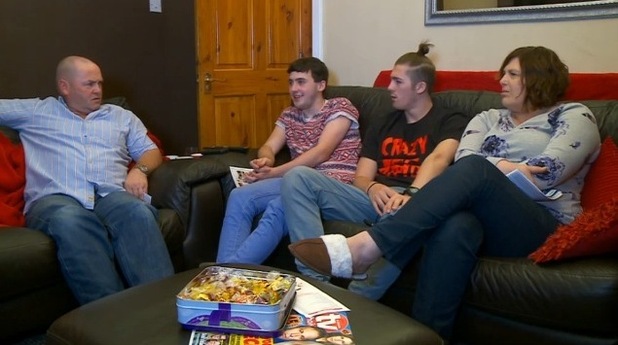 11. The Malones - they're okay. The dad is in a way funny though.
12. Bill and Josef - as intelligent as they are, they lack personality and don't bring anything new or interesting to show. I wouldn't miss them if they were never to return.