The Ambulance
1990
Directed by Larry Cohen
Cast: Eric Roberts, James Earl Jones, Janine Turner, Megan Gallagher, Stan Lee
Genre: Thriller
Plot: When comic book artist Josh meets Cheryl, he immediately falls for her - unfortunately, she immediately takes a fall, as well collapsing on the street. It turns out Cheryl is diabetic so Josh calls for an ambulance & promises to meet her at the hospital. When he arrives, however, the hospital has no record of Cheryl. Josh looks for help, but nobody believes his story so he must find the ambulance himself
'Nifty Premise and Bizarre -Yet Interesting Script Make This B-Movie Fun & Entertaining'
1990 saw the release of The Ambulance, which went unnoticed by many as a B-movie that nobody had come across that went straight to video. It was directed by B-movie auteur, Larry Cohen, whose list of credits include Phone Booth (2002), Perfect Strangers (1984) & Celluar with Jason Statum and Chris Evans (2004). Whilst Julia Roberts finally hit the ground running with smash hit, Pretty Woman, her older brother, Eric was saddled with this overlooked thriller where he plays a comic book artist named Josh. Following up on 1989's martial arts fight fest Best of the Best with this somewhat oddball conspiracy-based thriller.
Yet is The Ambulance an intriguing thriller set in the world of crazy paramedics that excels at a good rate, or is it virtually an accident waiting to happen?
Comic book artist, Josh meets a girl that he has eyes for every day on the street and chats her up when suddenly, she collapses and is whisked away by some paramedics in an ambulance. It turns out these paramedics are anything but sane, - rather they are insane & of whom turn out to be a bunch of killers. Worried at what might happen to her and frustrated by the lack of evidence and the cops reluctance to take his pleas seriously, he goes out of his way in pursuit of the ambulance and to search and get hold of her, before it's too late. Josh enlists the help of a gum-chewing cop (James Earl Jones) to get her back.
The interesting thing about The Ambulance is how these people start interconnecting with each other, without really knowing one another in person, or wanting to know about them. It's pretty odd. They just seem to be talking but never really about each other.
The Ambulance has a nifty premise, some good twists and turns that kept me glued and is highly entertaining and the ambulance itself looks like the Ecto-1 vehicle in the original 1984 Ghostbusters. The action sequences are well executed and the cinematography looks pretty impressive. The plot is ridiculous -yet inventive and is a good idea for a thriller (who'd thought a pair of killers disguised as paramedics driving around and picking up diabetics would make for a good film, eh?). And it is also funny; it is especially funny to see Eric Roberts acting all nuts and insane.
All I will say is.... how on earth did a movie distributor sent this effort straight-to-video, without a proper worldwide cinematic and theatrical release? Because I could have honestly seen this film do well at the box office, along with all the other major players that came out in 1990. Even though it did cost less money to produce this film, there are certain qualities in this effort that are rarely present in many other B-movie, Z-movie flicks.
Director Larry Cohen packs this movie with some good thrills, suspense and moments; that along with Eric Roberts and his terrible mullet turning in a surprising -yet great performance that ought to have warranted more bigger and even better movie roles, as similar as this in his career (and by that I don't mean his turns in Final Analysis, The Specialist & the sheer awful video game-based movie, DOA: Dead Or Alive) - and a cameo by one of the comic book greats, Stan Lee, and what you get is a brilliant movie that though is supposedly low- key in the production values side and is very fun, offbeat & definitely has more than enough qualities to make it stand alongside the big-hitters of other 90s' thrillers.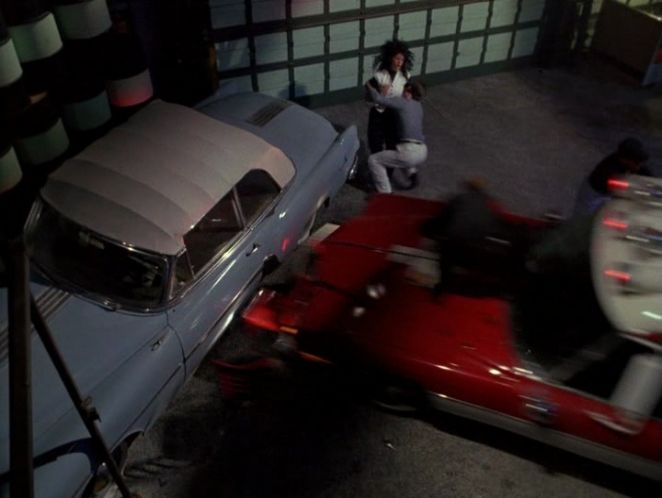 Final Verdict:
I went into this movie not expecting much from it at all, what with the casting especially and thinking it would be another run-of-the-mill, throwaway thriller with little in the way of twists and surprises.
But The Ambulance actually turned out to be a pleasant surprise: this is a really good edge-of-your-seat, fast-paced -yet fun and entertaining thriller with some good action scenes and chase sequences in-between and the plot twists really helped in giving this film more of an incentive for me to stick with it in its entirety. The performances are great too, especially from Eric Roberts, whose somewhat laid-back demeanour and lighter tone made his character likeable, empathetic and endearing, and yet who was a little nuts as well.
Do not let the fact that this is a low-budget B- movie put you off. If anything, this is (probably) one of the best B- movie thrillers I've come across.
Overall: