America's Sweethearts
2001
Cast: Julia Roberts, Catherine Zeta-Jones, John Cusack, Billy Crystal, Hank Azaria
Genre: Romantic Comedy
Worldwide Box Office Gross: over $138 million
Plot: Gwen and Eddie are America's sweethearts.... the nation's favourite couple, on-screen and off. But when their very public romance turns into a very private breakup, only veteran press agent, Lee and Gwen's assistant, Kiki can help Gwen and Eddie show some love while they promote their last film together. But the press junket is in a hotel resort miles from anywhere. & while Lee and Kiki frantically try to keep the media away from the real story & keep Gwen and Eddie from revealing their secret, Kiki finds something entirely unexpected about true love, happily ever after and other Hollywood endings
'Julia Roberts Rom-Com That I Actually Enjoyed A Whole Lot'
This 2001 effort plays out like a screwball comedy and I usually prefer screwball comedies over rom-coms; screwball comedies are essentially romantic comedies that operate in more over-the-top ways and incorporate zany humour. America's Sweethearts is no ordinary rom-com, especially one starring Julia Roberts, and thank goodness for that. The first 15 mins operates like a standard comedy film, but from there onwards, there is more comedy and satire than romance in a screwball rom-com of this nature to be had.
2001's America Sweethearts was Julia Roberts's follow-up to the previous year's Erin Brockovich and this offering sees her resuming her usual rom-com duties. Gwen and Eddie are two ex-lovers who are forced to cross paths and end up working together, whose careers have been on the wane since their split. They no longer stand each other, with Gwen having Hector as her partner; thus, leaving Eddie on the verge of despair. Publicist/agent Lee arranges for Gwen's sister, Kiki to help reconcile Eddie and Gwen, in an attempt to salvage the film. But as she does so, the more she falls in love with Eddie.
I like Billy Crystal, but I'm not a huge fan of most of his movies but as agent Lee, he was pretty good. The film also sees Stanley Tucci reuniting alongside Julia Roberts in the main cast after 1993's political conspiracy thriller, The Pelican Brief, although we don't see much of them onscreen together, or be it at all. Julia Roberts plays the geeky sister and personal assistant of Gwen in Kiki and it was great to see her play against type; well, sort of. She still plays the good gal, but not the glamourous good gal, as in her other films. The other flashback scene where she is all frumpy with the glasses was a joy to watch, and good on Julia Roberts for going down that route. She just shows that she can be versatile, not just in some of her film choices but also in her roles as well. I know I've said many times I've never been a fan of Julia's other romantic comedies, but America's Sweethearts is an exception to this cause, partially thanks to her great but also understated turn by demonstrating her comedic skills and knack for humour, as a sister, who is constantly living in the shadows of her successful and at times overbearing sibling - yet still remain grounded, as well as Billy Crystal's whimsical writing. Catherine Zeta-Jones is prima- donna Gwen, who thinks her hubby is too much of a dullard and dates Hector, and in addition to that, she is the very b****y sister. Hank Azaria's Hector adds an offbeat, oddball-ish element to the film and he is in many ways, a straight version of his flamboyant character from The Birdcage.
There is a funny flashback scene where Eddie is on a motorbike and when he sees Gwen and her Spanish lover, Hector dining at a Chinese restaurant, he rides his bike through the window. As is Gwen's dog licking Lee's balls! That canine was an additional bright spot in this film.
Though a lot of people will think this isn't as smart as it should've been, especially with the comedy aspect and it is an unconventional type of romantic comedy, but America's Sweethearts is a rom-com screwball comedy that did things just right and one that puts a smile on my face. It's definitely not the type of rom-com film that I'd expected at all actually; rather I'd assumed it was going to be virtually the same as every other Julia Roberts rom-com, & one that I've never enjoyed through Notting Hill, Pretty Woman and so many others. But alas, I was proven wrong and I'm glad America's Sweethearts was not like that, at all.
You have Julia Roberts and Billy Crystal who provide the rom-com accessibility of which they have obtained through their roles in When Harry Met Sally and Pretty Woman and Catherine Zeta-Jones and John Cusack with the dramatic presence. Zeta-Jones and Cusack playing up to the 'celebrities with big egos' stereotypes really well. Many people will be taken aback by Julia's subdued role here; me personally, I think this is great and it's good that her character isn't the one that chews up the entire scenery. & whilst John Cusack isn't at his best, he makes for an interesting male lead and one he followed up with in Serendipity.
The plot and story are well-conceived and the other subplots, which rather than detract from the central focus, they function as an additional arc to the story. Sure it does follow some tried and tested formulas, as with many other rom-coms, but as a rom-com with a screwball twist, it offers something that is also appealing to non-rom-com fans and people like myself, who doesn't necessarily love watching rom-coms in general. As the co-writer, Billy Crystal has gone one better from Forget Paris; America Sweethearts' script is a huge improvement over that film and it clearly has more enjoyable and likeable scenes and moments.
I get what he was trying to say and the message he was trying to project in this film that the critics didn't get: it's about falling in love but not falling in love with the image projected on camera, but falling in love, with love.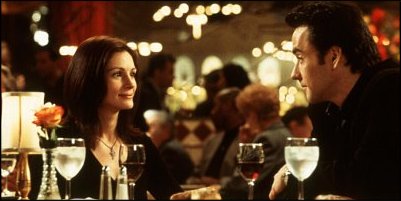 Summary
Pros +
- Occasionally funny and amusing, as well as entertaining
- Seeing Julia Roberts as a geek!
- Fantastic performances
- Easy on the eyes and not your typical average rom-com like millions of others
- Great screenplay by Billy Crystal
Cons -
- Wasn't a fan of Catherine-Zeta Jones' character, Gwen
Final Verdict:
This is not an outright amazing romantic comedy and America's Sweethearts did get a lot of mediocre reviews, but the vast number of negative reviews came from critics who expected this to be a typical rom-com. It is not your average rom-com, and that is great because it didn't and doesn't need to be.
It's a light-hearted, pleasing film that showcases the highs and lows of being a Hollywood couple and thanks to Crystal's screenplay, America's Sweethearts is easy on the eyes, enjoyable but it is also a rom-com that, wisely, chooses not to take the easy way out, like with many other rom-coms. Coupled with some really good performances and almost against-type performance by Julia Roberts that gains a few extra brownie points from me and sprinkled with some silly farce, this is at times a witty, screwball comedy that makes a nice change from its other more successful commercial offerings.
As predictable as it is, America's Sweethearts still remains highly watchable, due to the main ensemble cast, who provide that extra bit of quality to this film, which was much needed.
Overall: