that aren't called Pretty Woman, 4 Weddings & a Funeral, Notting Hill, When Harry Met Sally
*last updated: 11 January 2018*
As much as I enjoy watching my classic movies, - and I say classic as in the 1980s, 1990s and less so 2000s, the one particular genre I am not a big fan of, or a regular viewer of, is the romantic comedy or AKA the rom-com.
It's just that I find that most of the well-known movies tend to be cliched, over-hyped, so boring, nothing much to write home about and often make me want to gag. That, or I am just not into them as much as other fans of that movie are - i.e. Pretty Woman, Notting Hill, When Harry Met Sally. The romantic comedy is a subgenre where for me the lack of onscreen star couplings where I can truly buy into their romance, is what holds me back from being a fan of these types of movies. There are not many so to speak that interest & resonate with me in that respect.
But that is not to say I am completely against rom-coms, or detest them completely; I have absolutely no qualms about movies that depict the story of two strangers/employees/friends turned potential lovers. It is the way the movie and narrative are depicted, how the events unfold, as well as how I feel about the movie that matters the most. If I enjoy the movie, if I feel for the couple, the star pairing of the actor/actress and sense the onscreen chemistry between the two characters, then for sure I will enjoy it. And I shall also root for them to get together in the end. I even came up with my own romantic comedy movie concept.
It's not so much about that the narratives and movies always have to have a happy ending in contrast to our own lives (though it is still important), nor that they remind me of something that I'll probably never have. Not for me, that is. I shall never compare movies, well rom-coms to real-life because it is like comparing oranges with apples, it's all chalk- and- cheese. But for rom-coms to entertain and to put a smile on my face, a romantic comedy movie has to be a) funny &/or amusing, as well as interesting, b) have likeable characters and c) a main boy/girl star pairing who are likeable enough for us to make us want them to fall in love, and more, without coming across as being cheesy, mawkish and gag-inducing.
Rom-coms that also try to put a different slant on the formula or mix things up by incorporating elements from other genres, as well as ones that have something to say, besides having the lovey-dovey thing, get a bonus point too.
I know some of these aren't strictly categorised as rom-coms per se, but they still have elements and conventions that are taken from other romantic comedy films.
These are my 10 chosen comedy movies: each one with an unconventional take/twist on the topic of and concept of love and romance that I find equally and easily endurable, more-so than other so-called rom-coms.
*additional info from Amazon
Tootsie (1982) - technically speaking, Tootsie doesn't fall into the rom-com sub-genre of movies; however, one could see it as boy as a girl-meets-girl story. Because that is what it is: a man (an actor by the name of Michael) lands a job by playing and disguising himself as a woman, only to fall for his co-star, Julie. There is no social message or hidden agenda, it just wants to be funny and romantic, of which the movie succeeds on both levels. The ending scene where Dustin Hoffman's Michael and Jessica Lange's Julie come face- to- face for the first time since Michael's on-camera revelation as the man posing as Dorothy is pretty endearing and sweet and not so in-yer-face it becomes a turn-off.
Bruce Almighty (2001) - Another not a standard Rom-com or film that is categorised as a romantic comedy, and yet it follows many of its tropes and its genre structure, though it is twisted slightly as boy and girl together, boy loses girl, and finally boy gets girl back and they fall in love again. Starring Jim Carrey (in his last ever big hit) and Jennifer Aniston, who with this movie, she finally made a name for herself as a movie actress after several disappointments since her transition from the TV show, Friends to a film star as the couple, Bruce and Grace, they looked great together onscreen and had great chemistry. Funny, sweet, wasn't too preachy as I'd anticipated, this was a really good film that could be construed as a rom-com. & a good take on one too.
Jack & Sarah (1995) - Jack's life comes crashing down after the death of his wife through childbirth. He later hires a waitress, Amy as Sarah's babysitter, only to fall for her! Really good performance by Richard E. Grant in particular and the relationship between Amy and Jack develops nicely, one step at a time.
Romancing The Stone (1984)
-
yet another unconventional rom-com,
Romancing the Stone
is more of an action-adventure movie in a similar vein to Indiana Jones with an interesting blend of humour, intrigue and romance. It was the launchpad for Michael Douglas's and Kathleen Turner's movie careers, and it was also the movie that helped establish themselves as stars of the big screen. But it can also be viewed as a rom-com, in the sense that romance blossoms for both Jack and Joan, who fall for one another whilst they go in search of the treasure.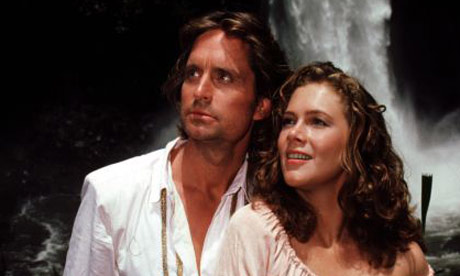 Overboard (1987) - starring Goldie Hawn and Kurt Russell, a rich woman falls off a boat, loses her memory and is told she is the mother to 4 unruly, out of control boys by their father, who falls in love with a rich woman. Fun, funny movie that plays out as a traditional comedy movie without coming off as sappy.
As Good As It Gets (1997) -
one of the most peculiar
rom-coms ever made, for some reason, the (odd) pairing of Jack Nicholson and Helen Hunt somehow works, despite the age gap between the two actors. The movie is witty, poignant and feel-good. As Good As it Gets is an example that romantic comedy doesn't always have to be vulgar and relying on sexual scenes and references to garner audience interest but on good writing, solid acting and moments that make you smile.
Two Weeks Notice (2002)
-
this is a film that by judging by the poster itself, especially back in 2002 when this came out, I'd have dismissed this one completely. I'm not a Hugh Grant fan when it comes to his films, whilst Sandra Bullock is a fine actress, but there are fewer movies I've enjoyed of hers. But with these two together and the screenplay itself, it worked out and this was a pleasant surprise. It wasn't sickly romantic as I'd feared, in fact, it sort of plays out like screwball comedy and it was very enjoyable.
It Could Happen To You (1994) -
inspired by a true story, a humble cop, who along with his obnoxious (gold-digging) wife wins the lottery and he gives a huge tip to a down-to-luck waitress. Like
Overboard
, this is another movie about money doesn't buy happiness and true love.
It Could Happen to You
is a gentle love story interwoven into a tale of social consciousness. Nicolas Cage puts on one of his finest performances as Charlie and he just proves that
Raising Arizona
was no fluke, in terms of starring in light-hearted roles & movies, whilst Bridget Fonda's Yvonne provides that vulnerability, tenderness and warmth that compliments Cage's Charlie.
Living Out Loud (1998) - A movie that is similar to As Good As It Gets in terms of older people finding love, yet skews some of the genre conventions and still remains highly watchable from beginning to end. The Holly Hunter & Danny Devito pairing turned out to be a huge and nice surprise and in a way, I prefer this film over As Good As It Gets, as I liked Holly & Danny as a coupling moreso than Jack Nicholson and Helen Hunt together. Directed by the same person who wrote The Fisher King, its approach is very surreal and so unlike any I've seen before in many other rom-coms, especially mainstream commercial hit rom-coms.
Juwanna Mann (2001) - another drag-based comedy but set in the world of sports and more specifically basketball, Juwanna Mann received a mauling and thrashing by movie critics alike, particularly for its cross-dressing aspect, but this wasn't as bad and horrific as I'd feared and as the critics lauded it as. Whilst it could have been a lot stronger in the comedy aspect and the two leads Miguel Nunez Jr and Vivica A. Fox were better as onscreen friends than lovers to be, it was entertaining, which was something I wasn't expecting, not to mention the basketball scenes were a delight to watch.
*other unconventional rom-com movies worth recommending by me: Coming to America, The Wedding Singer, She's All That, America's Sweethearts, Boomerang, Bubble Boy, Strictly Ballroom, Breakin' All The Rules, Gorgeous (1999 Jackie Chan flick that is a fusion of martial arts with romantic comedy)