The World According to Garp
1982
Cast: Robin Williams, Mary Beth Hurt, Glenn Close, John Lithgow, Jessica Tandy
Genre: Drama
Estimated Worldwide Gross: $30,207,324
Trivia: Robin Williams was originally considered for the role of Roberta, which went to John Lithgow instead
Plot: A struggling young writer finds his work and life dominated by his unfaithful wife & his radical feminist mother, whose best-selling manifesto turns her into a cultural icon

'A Peculiar, Long, Slow - Yet Also Pleasing Reality Show Tale According To Garp'
The World According to Garp is a slightly unusual dramatic movie, especially by Robin Williams's standards. Here he plays a guy who has his share of ups and downs and that with all the unfortunate and sad events that occurred in his life, he appreciated his family, his kids and wife and for living the life that he did. As Topsy- turvy as it was.
Cited as his major feature film dramatic debut, Robin Williams doesn't appear as T.S Garp until around the 24-minute mark. He looks in great shape during the wrestling scene. He's softly spoken, sweet, at times, shy and sensitive as Garp and there were 1 or 2 touching scenes. He plays the guy we are all rooting for, and this is not without its personal tragedies.
There are a few adult scenes and moments that include a nude scene where Garp has sexual intercourse with a girl, who later becomes his wife, which rightly and understandably warranted an R-rating. Despite some of the family-friendly scenes with Garp and with Garp as a young boy.
As a dramatic performance, Robin Williams is great: he plays it dead straight and has some great moments with Glenn Close - however, as the career-defining moment of his illustrious career? Better than Adrian Cronauer in Good Morning, Vietnam and John Keating from Dead Poets Society? Personally, no, this isn't the most career-defining, but it showed bright glimpses of what was to come in his latter efforts and that it is still pretty good. The last 30 or 40 mins was far more interesting than the first 40 mins, with an unexpected twist right towards the end. It's a shame the story lacks the poignancy and depth of say Good Morning, Vietnam. Those 2 hours felt very long and it seems that George Roy Hill was trying to condense a 600+ page book and wanted to tell the full story when here, this is one of the few films that didn't need to do that. Rather just pick the more interesting moments and elaborate on them further. Having said all that, I always enjoy seeing early Robin Williams movies before his big breakthrough with the latter. Just to see what they are like.
Garp wants a better and happier life for himself and to live a much normal life to the one his mother has planned for him.
Released in 1982, it's not clear what year or period this film is set in - though by my reckoning I assume it is during the 1950s or 1960s. & like I said earlier though I have not read the book, insofar as to what other users have commented on Amazon, the film does take liberties with the book and alters a few things about it for this movie version, which disappointed fans of the original novel.
The World According To Garp was not the type of movie I'd originally expected it to be; although it still does its job well, despite a few faults and the twists and turns kept me tuning in. But it isn't, what I would call it, earth-shattering. The story just didn't explode on screen as it should've and there was a lot to take in also. Its ideas are also off-key and fail to connect with the film. It does feel a tad TV-movie-ish also.
Regarding the characters, I wasn't fond of any of the female characters, although Glenn Close gives a great account of herself, performance-wise. The manner the film deals with feminism, family relationships in respective of the female characters and from their perspectives doesn't feel very thorough and drawn out. The film also features an appearance of Amanda Plummer as an older version of Ellen James: Plummer herself also starred opposite Robin Williams in The Fisher King in 1991.
The World According to Garp is an offbeat and peculiar drama, which really isn't as great as critics lauded it to be. Original: not really as it was based on the novel, interesting? In places, yes, however, I have a small thing against most movies running at 2 hours long (but for say Steven Spielberg's Hook), and there is a lot in this film that could have been cut out - or perhaps replaced, because a lot of it was just plain boring. The ideas that are presented lack correlation and depth, which should have connected with the film, and yet they, by and large, didn't.
Just like with Robin Williams's 1986 effort Seize The Day, the performances are wonderful by the main cast members, Williams, Lithgow and Close. But unfortunately as a feature, The World According to Garp is often bogged down with some overdrawn and dull scenes I didn't care much for, not to mention some of the dialogue was rather dull and flat.
Therefore, the movie would have benefited more by having a director, who had or has a much better vision for it than George Roy Hill's, which really lacked the wow factor. If The World According to Garp was an ice cream flavour, it would be vanilla: plain, kind of boring and not really flavourful.
If you want to see a really, really outstanding Robin Williams performance and film that for me anyway, far outstrips that of T.S Garp and this movie, then do check out Good Morning, Vietnam, The Fisher King, Awakenings, Good Will Hunting.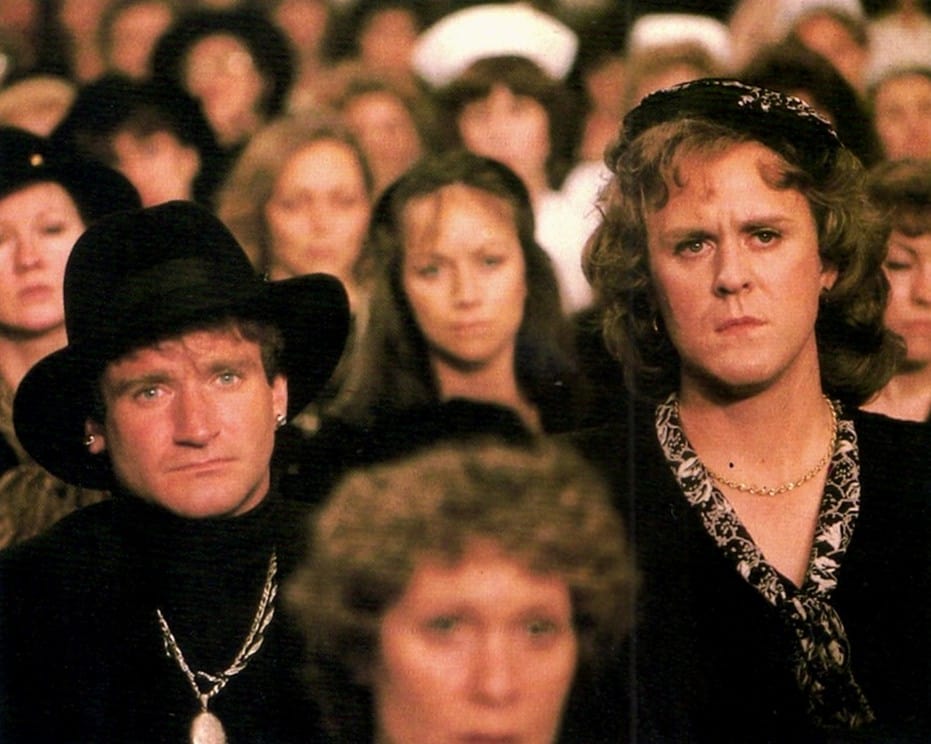 Summary
Pros +
- Glenn Close and Robin Williams's performances
- Animated sequences were nicely done
- Robin Williams and Glenn Close's interactions
- Has a few interesting eye-opening moments and interesting plot twists towards the last 30 mins
Cons -
- Scenes where young Garp gets mauled by the dog named Bonkers & where he bites Bonkers as an adult
- Over 2 hours long
-
Some of the dialogue sounded dull
- Some mundane and overdrawn moments
- Story lacks poignancy and depth of his latter work after 1986
Final Verdict:
My views on this film are not in comparison to the book, which I have not read before, but based solely on his other roles and movies, and more specifically his dramatic performances in the likes
of Good Morning, Vietnam, The Fisher King, Awakenings, Dead Poets Society, Good Will Hunting. & frankly, The World According to Garp comes up short.
Overall, it is a crowd-pleasing film and Robin Williams's performance made this not so entertaining drama & misportrayed film as light-hearted fluff, watchable.
Thankfully, Glenn Close, Robin and John Lithgow have appeared and starred in far better projects than this one. Especially for Robin Williams himself.
If you're looking for an entertaining & earth-shattering Robin Williams movie, there are indeed other better offerings than this one, but if you are looking for a film with some interesting plot twists, then you can't do any better, or worse than this.
Overall: