Dangerous Minds
1995
Directed by John N. Smith
Cast: Michelle Pfeiffer, Wade Dominguez, George Dzundza, Renoly Santiago, Courtney B. Vance
Genre: Drama
Estimated Lifetime Gross: $84,919,401
Plot: Former marine Louanne Johnson (Michelle Pfeiffer) lands a gig teaching in a pilot program for bright but underachieving teens at a notorious inner-city high school. After having a terrible first day, she decides she must throw decorum to the wind. When Johnson returns to the classroom, she does so armed with a no-nonsense attitude informed by her military training and a fearless determination to better the lives of her students - no matter what the cost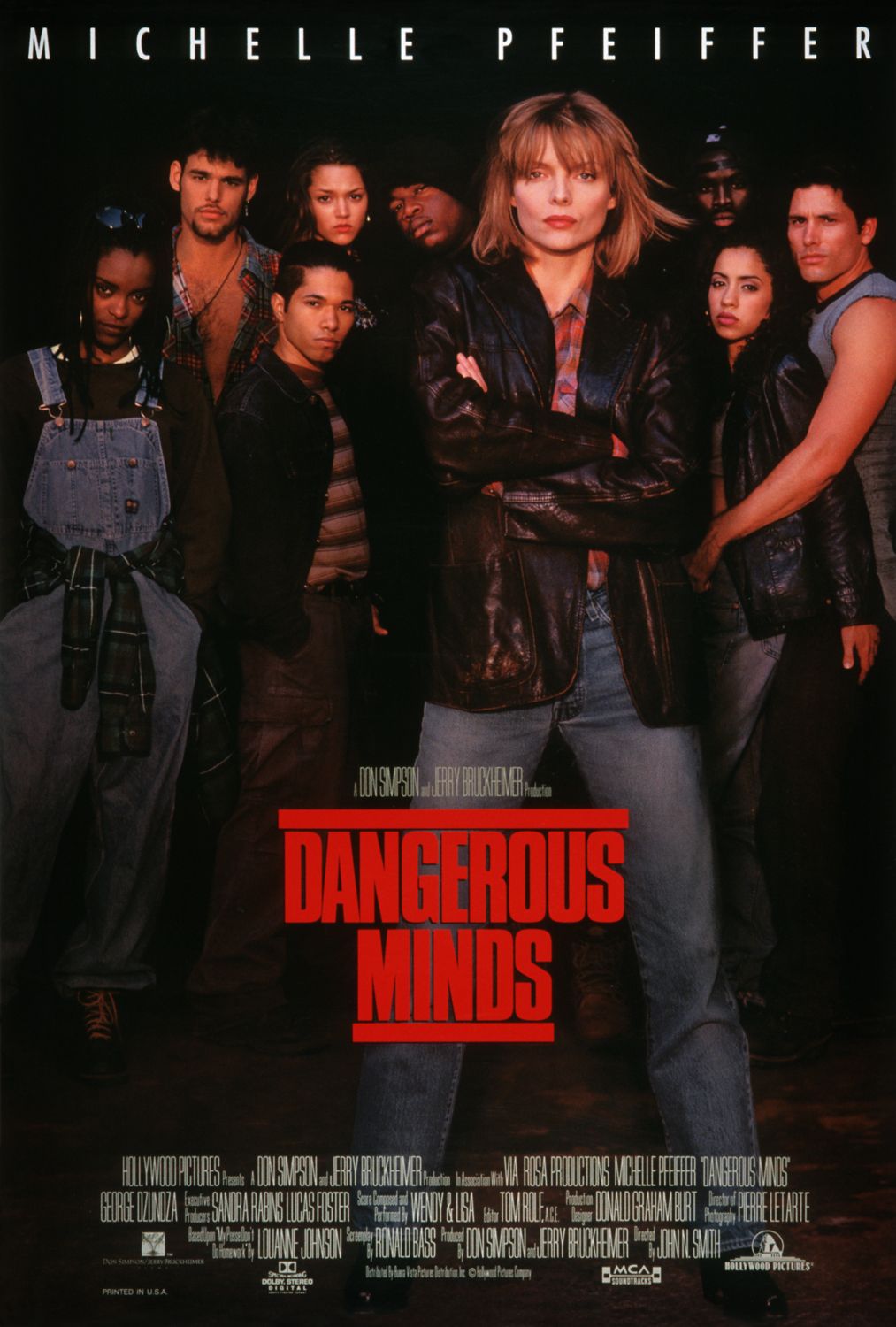 'What Happens When You Cross Dead Poets Society With Urban & Street Culture'
Produced by Jerry Bruckheimer and Don Simpson, whose long list of credits include Beverly Hills Cop 1 & 2, Bad Boys, Con Air and Pirates of the Caribbean, with the script penned by Ronald Bass (Rain Man and The Joy Luck Club), Dangerous Minds is based on the book by Louanne Johnston titled: 'My Posse Don't Do Homework', and yes it is another movie that is based on a novel/real-life story, whatever you want to call it. The critical reception was not good, yet it managed to debut at #1 in its opening week in 1995, which was then followed up by staying in the top 3 for 6 consecutive weeks.
Michelle Pfeiffer is Louanne Johnston, who used to be a marine and is also interested in becoming a substitute teacher at a more established school - only to be placed as a substitute teacher at an inner-city high school for a bunch of students, whereby most of them don't care, nor have any real interest in learning and wanting to learn. Louanne receives a very rowdy and hostile reception by the unruly students, who aren't very welcoming to her and they begin to start throwing things at her. We also have a situation where we have someone in a position of authority who wants to go out of her way and to help by teaching the students, but they don't want her help because they think she is just like any other standard teacher in the classroom. That and that they see no point being in school because they don't see themselves as having any future or real hope for the future. Yet Louanne has ways to make them see that this isn't true and that sees the potential in each and every one of them. This is a case where she cares about them, & they don't care about her. They are the ones with much to lose, but also most to gain - IF, and that's if, they want to make it work.
It's only when Louanne turns to her unorthodox methods of teaching that the students eventually win her over and win her respect, as they come to their senses in seeing she really can make a positive difference to their lives.
In a way, Dangerous Minds is Dead Poets Society meets urban and street culture: like in Dead Poets Society, Louanne reads and teaches poetry to the students, but the other difference in that is whereas poetry is something that the students in Dead Poets Society are more used to dealing with, in contrast, the teenagers in Dangerous Minds are not so used to poetry at all - they find it unappealing, disinterested, less enthusiastic, that is until Louanne finds a way to make it work so that they can understand it and enjoy it more.
I like and enjoy this film much, much more than say, Dead Poets Society - Yes, Dead Poets Society is held in a higher regard and contains one of Robin Williams's best standout performances in his career..... but Dangerous Minds was a far more entertaining and interesting movie for me, because of the urban and contemporary setting and context & grittiness of this film that I found personally to be much more 'understandable' and appealing to my eyes. That relatability of having been a student before, that hint of grittiness is what makes this movie stand out from so many other school/educational-based movies.
I felt as I was watching this film that I could resonate with the students and empathize with them. I'm sorry but with Dead Poets Society, that film made me fall asleep and nod off and lose interest, whereas this film manages to maintain my interest throughout. Dead Poets Society has really one interesting character: the English teacher, John Keating. That's about it. In Dangerous Minds, we have Louanne Johnston, Raul, Callie- that's 3 characters.
Michelle Pfieffer has been one of Hollywood's major female players, but she hasn't had as many ballsy roles that challenge her, but when saddled with a role as this, she really delivers a great performance that underlines how amazing a performer she really is. As Louanne Johnston, she gives the character an identity, an image by humanising her and that despite holding a very prestigious position, she isn't ashamed of being funny, having fun and doing things like eating junk food like candy bars and Cheetos. With extra character development on Louanne by the writers, she would have been a much more fleshed out character, but Pfieffer's efforts are still on point.
The acting, despite what the critics have said, is excellent and the depiction of inner-city life was and is as realistic as you can get. The film's success mainly lies at the feet of Pfieffer, who carries this film & gives it everything, and without her presence and the manner of the performance she'd gave, Dangerous Minds wouldn't be half as good as it is.
Sure, there are criticisms where some elements of the story were not so convincing and strong. But as soon as the movie began to shift focus onto the individual students, Callie, Raul and Emilio and their personal stories and Louanne began sharing her stories with them, that's when they understand that she- as in Louanne- has a lot more in common with them than they'd ever realised. And in doing so, she becomes more engrossed in their lives. Dangerous Minds also has one other aspect that other similar fish- out- of- water educational drama based movies have not quite managed to carve out: and that is likeable, varied and interesting students as characters. Plus, it has that feel-good factor in places. Lou Anne may be a cool teacher, but she is also disciplined and takes no bull, with the likes of Kellie and Raoul, due to the performances of Brooklyn Harris and Wade Dominguez, also turn in entertaining and equally impressive turns with their own individual story arcs.
Louanne even goes out of her way to help out Raoul with regards to the money for the jacket he wore (and stole) and even takes them to a theme park as a special treat, - with all expenses paid for by the Board of Education. She defies the school rules and the board, undoubtedly by offering incentives to the teens, which in turn, encouraged and motivated the students in doing better in their studies. As the days settle, she sees her efforts paying off dearly, as the students become more accustomed to her teaching methods with particular emphasis on poetry. I also liked it when she told them that during one point of the movie, she says something along the lines of, ''as of now, each and every one of you has an 'A'..... it's up to you to keep it''. I liked that a lot, as it spurs them on to do better.
Another criticism was levelled at Pfieffer's Southern accent, but I didn't have a problem with it; I thought it was good and that it didn't really affect her actual performance. Nor did I think it became a hindrance to it.
In Dead Poets Society, the main theme or be it tagline was 'seize the day' or as it was phrased as 'carp diem', it was about seizing the opportunities and about making something great out of a situation; in Dangerous Minds, its main theme is about 'choices': choices come in all varieties and that it isn't just about making the right choices, but by being wary of the wrong ones we ought to be aware of & in avoiding those also.
Dangerous Minds, alongside Dead Poets Society, became the trendsetters for educational-based films where obedient teachers enter the academic establishment, their efforts win over the students and students end up having respect for them. Yet in the former, it is the more established movie, as well as arguably the most entertaining one to boot.
Final Verdict:
Dangerous Minds might not be the most compelling educational based drama movie, ever, nor a masterpiece of any sorts. But anchored by some strong performances by Michelle Phieffer, Wade Dominguez and Brooklyn Harris, it is an overly competent and enjoyable look at high school life at an inner-city establishment, rather than at a more upper -class/private school or college.
Conceivably, as Louanne Johnston, this is one of Michelle Phieffer's better performances in my view, which has unfortunately gone unnoticed by many. 20 + years on, the film still resonates with me and despite its cliched story, it still has that nostalgic quality that even to this day, never wanes, with a little help from Coolio and the #1 chart-topping song, 'Gangsta's Paradise'.
Dangerous Minds is a worthy addition to the ever-increasing list of movies set in an educational establishment, even when it often gets a little too predictable and cliched during certain moments.
Overall: