Steel Magnolias
1989
Cast: Sally Field, Julia Roberts, Dolly Parton, Shirley MacClane, Daryl Hannah, Tom Skerritt, Dylan McDermott, Sam Shepard
Genre: Comedy Drama
Worldwide Box Office Gross: over $95 million
Plot: Six women come together in a small Louisiana parish. At the centre of the group is Shelby Eatenton, newly married and joyfully pregnant, despite the fact, her diabetes could make childbirth life-threatening. Terrified and angry at the possibility of losing her only daughter, M'Lynn Eatenton looks to her four friends for strength and laughter, as she battles her deepest fear of death in order to join Shelby in celebrating the miracle of a new life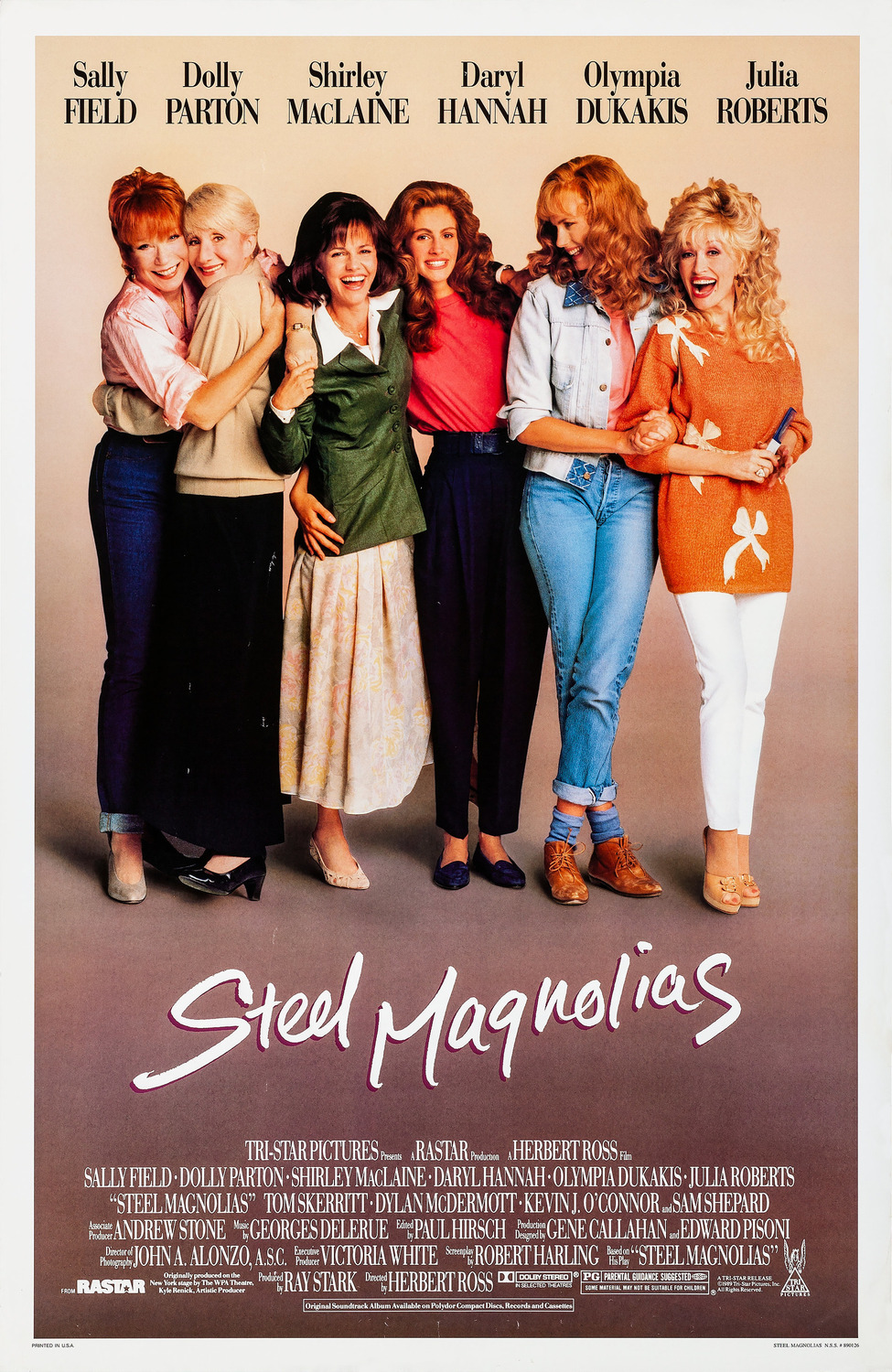 'A Charming & Profound Dramedy About Sisterhood, Female Companionship Amidst The Impending Arrival Of Death'
Based on the original play, Steel Magnolias, it described the experience of friends and family in the wake of author Harling's sister's death.
Contrary to what some may say, though Steel Magnolias is in many ways a chick flick, it is unlike so many chick flicks that deal with female problems, issues and women coming together, the way the film does this is very heartening and comforting. The film is a dramedy, mixing humour with drama.
The film opens up with the preparation of Shelby's wedding to Jackson and a new stylist who arrives at the town of Louisiana, whereby the characters gather at a local beauty parlour and mingle, chat and have a good time.
This film was originally a play that got turned into a Hollywood feature-length film in the late 1980s and was later remade in the 2000s for the Lifetime channel, although I have no interest in seeing that one. I just feel this film did not need to be remade.
I was disappointed to read that in Dolly Parton's memoir director Herbert Ross belittled the actresses and that he didn't think they could work well together. As well as that he bullied Julia Roberts, which is frankly shocking and terrible.
The casting by Hank McCann is truly exceptional and they all gel well together; what is remarkable is that at the time of its release, but for Shirley MacClane and Dolly Parton, the rest of the female cast were still trying to make their mark in the movie world. The performances are so natural and they don't feel artificial: you have stalwarts in Sally Field, Shirley Maclaine, Julia Roberts, Dolly Parton and Daryl Hannah. Splash's Hannah just about manages to keep in line with the remaining ensemble as the gawky-yet kind-hearted beautician assistant. After the terrible Satisfaction that came out the year before, then relative newcomer, Roberts redeems herself with a performance that is miles apart as the young bride, Shelby who is also a diabetic. One of her best lines was when she uttered: ''I'd rather have 30 minutes of wonderful than a lifetime of nothing special''. Her Shelby is uncomplicated and a simpleton, without coming across as an airhead or bimbo. Julia Roberts exudes a wonderful, youthful effervescence and warmth that makes her character likeable, sympathetic and down-to-earth in her Southern charm. By far it's my second favourite performance of hers after Erin Brockovich. Shelby encounters her highs, such as her marriage to Jackson to her inevitable passing towards the end. Even though it was Pretty Woman, which opened the doors for her career, I wouldn't be too surprised if her performance (which resulted in a best-supporting-actress nomination at the Oscars) in this film was the one that showed Roberts's true potential as an actress and one that set her on the path to stardom and success in the 1990s up to the early 2000s. There was a scene, where as Shelby she has her hair cut short; she looked a lot like Tinkerbell of Hook with the short-cropped look.
Sally Field is in her element and is also wonderful as Shelby's mother and her interactions with Julia Roberts are at times emotional, heartfelt, as well as sad and they work off each other so well. Their scenes together are great to watch.
Steel Magnolias has a homely, warm feel that is at times sentimental, emotional and amusing as well, but it is also a film that could've potentially become overly sappy, saccharine and mundane and thus, tread on the cringe-inducing. Thankfully, the direction by Herbert Ross, best known for 1984's smash hit, Footloose, steers this film towards a direction that is at times, charming, witty, thoughtful and profound. The film celebrates happiness but also tragedy and sadness through the character of Shelby. It is a statement about death & life, not just the passing of life, but the celebration of it as well. The women aren't perfect and despite the tragedy, the problems and issues they face, they continue getting through them with a smile. Even though it is led by Sally Field and Julia Roberts, there isn't one actress who dominates throughout and not least of all there is not one bad performance to come from it.
Sure enough, the main plot is sad and depressing with Shelby's looming death, but this film is something other than dealing with the aftermath of someone's death: it's about a group of women sticking by each other through thick and thin. It's not really a romantic comedy, although it does have situations and scenes of female characters getting together with the male ones. But rather it's a dramedy, which has a bit of everything but for the violence: it's good-spirited, has some light-hearted scenes, drama that isn't overdone to the point it dilutes the main plot and the characters, well the female characters anyway, are portrayed in a way that doesn't make them come across as being corny or over-the-top.
The film also does a brilliant job showing the Louisiana style of life: the iced tea, the crawfish broil to name. Even with the star-studded bill and though it does run a little too long for almost 2 hours, it remains firmly rooted with scarce moments of humour and it is through the performances that make this onscreen version of Steel Magnolias work and translate incredibly well onscreen.
Summary
Pros +
- Simple, charming, effective and uncomplicated
- Really great performances
-
The drama is well done and not to the point that it dilutes the plot
- Avoids becoming overly sappy, saccharine and cringe-inducing
Cons -
- Some people may find this too simplistic for their tastes
- The male characters are not well-written
Final Verdict:
It's easy to dismiss Steel Magnolias as a chick-flick that centres on a bunch of women gibbering away, and yet it has a lot more to it that; there is also drama & the portrayals of the female characters are refreshing to see and that they are not reduced to mere stereotypes in a film that is predominately aimed at women.
At times, heartbreaking but also comforting, poignant and profound with a career-launching and instrumental turn by Julia Roberts and well-supported by Sally Field, Daryl Hannah, Dolly Parton and Shirley MacClane,
Steel Magnolias
is a film made of steel that has a lot of heart within all the layers of fluff that comes with it and is a film that will remain unequalled and unrivalled for years to come, that no remake or reboot can ever come close to it. It's a shame its excellence is tainted by Herbert Ross's alleged behaviour towards the actresses, and besides, it is their performances that elevate this film, more so than what he has contributed.
It's not earth-shattering by any means, and yet its simplicity, attentiveness and southern charm are what makes Steel Magnolias a classic for years to come.
Overall: