Stepmom
1998
Cast: Julia Roberts, Susan Sarandon, Ed Harris, Lynn Whitfield
Genre: Comedy-Drama
Worldwide Box Office Gross: over $159 million
Plot: Three years after divorcing Jackie, the mother of his children, Luke Harrison decides to take the next step with his significantly younger girlfriend, fashion photographer Isabel Kelly. But when the flaky Isabel meets Jackie and Luke's children for the first time, their fierce allegiance to their mother is obvious. Try as they might, Isabel fails to endear herself to her young charges - & to Jackie- until a looming family crisis changes everything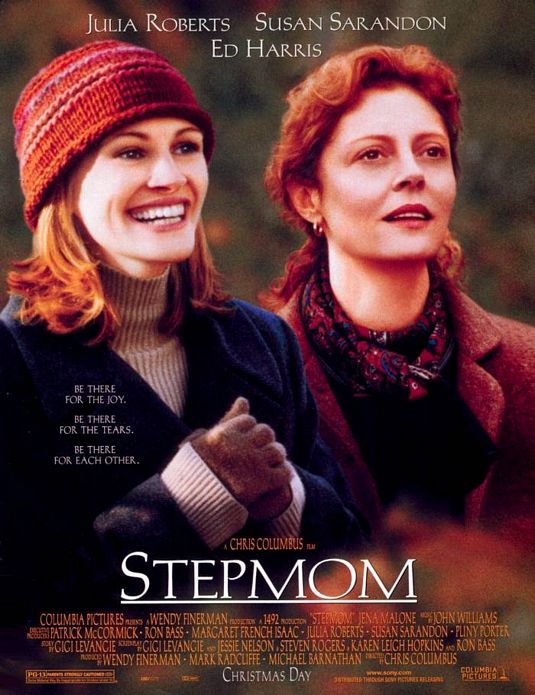 'Glossy-Yet Formulaic Tearjerker, Just About Elevated By Julia Roberts & Susan Sarandon'
Critics have described this film as a tearjerker, yet in watching this film throughout, it's not exactly a total weepie, but it definitely has a few poignant and emotional scenes, which produces an overflow of tears. Stepmom, however, is a drama that whilst the performances are top-notch from Julia Roberts and Susan Sarandon, they had to make do with a half-baked script, carved out by Ronald Bass, that needs tinkering.
Chris Columbus, whose films are known to delve into the breakdown of family ties - through Mrs Doubtfire, Jingle All The Way and Home Alone -, here relies less on whimsical humour and actually goes much deeper into the dramatics in exploring what happens when another woman enters the fray and into the life of another, who was previously married to her then-husband.
The two kids of Jackie and Luke are having to cope with Luke's new woman coming into their lives and when Luke breaks the news to them that he is about to ask her to become his new wife, they are not too thrilled. Especially daughter, Anna who doesn't see eye to eye with her. Isabelle does all she can to treat them as if they were her own children. Matters are further complicated when Luke announces he is to be married to Isabelle & Jackie is diagnosed with cancer, and when it happens, Isabelle, who found herself being sidelined earlier

on, wins

over the kids' respect,

- whereas

for Jackie, she's the one who is ignored. Eventually,

th

ey have to learn to live together and put their differences aside.
Stepmom does tread on some familiar territory of Mrs Doubtfire such as that example I have noted in the divorcee, but with Luke & Isabelle in place of Miranda and Stuart, as well as Daniel for Jackie. Even some of the music in the film reminds me of Mrs Doubtfire. Yet minus the slapstick, comical hijinks. Additionally, if you take away the cross-dressing aspect, strip away all of the funny Robin Williams slapstick and comedy & retain the sentimental and family aspects, this is what you get in Stepmom. And like Mrs Doubtfire, though some people may not be happy with the ending, it is plausible. Stepmom also touches on the terminal illness thing, just like in Julia Roberts's other films, Steel Magnolias & Dying Young. I would have

lik

ed to have seen the kids, Isabelle, Luke mourning Jackie's passing properly.
Though the story tends to lean more towards Hallmark channel mode and is partly conceived by Ronald Bass (Sleeping With The Enemy, My Best Friend's Wedding), its quality is slightly elevated by Columbus's direction and the additions of Julia Roberts and Susan Sarandon. You have the bitter, angry mother, and you also have the tough, no-nonsense stepmother
who thinks of nothing but her career,
with the kids not taking a liking to her. You can cut the tension between Julia's and Susan's characters with a knife; it is palpable and yet the animosity is never that fierce to drive the film's momentum further and that neither of them
is
made out to be the villain. They are just two women with their own sets of flaws, as well as advantages to each of them. Though the scene with Julia Roberts and the kids singing
'Ain't No Mountain High Enough'
in the car
was cute.
Julia Roberts as Isabelle is the successful, workaholic fashion

photographer, who

has both her good days at work and her bad days trying to look after the kids. At first, she is so self-involved and rubs Jackie and the kids up the wrong way. The daughter doesn't get on well with Isabelle at all, although as the film progresses and Isabelle wins over Luke by singing him a song, Jackie becomes jealous and it is her that feels the brunt of her bond with her son, instead of Isabelle.
Unfortunately, I didn't feel the sparks between Ed Harris & Julia (in fact I was little weirded out by it) and though I understand the storyline about the older man with the younger woman, I'm not that sure Ed was the ideal choice. I found it difficult picturing Julia and Ed together onscreen. Ed Harris himself is pretty much on the sidelines - although honestly when he was absent during most parts of the film, that didn't bother me that much. As Luke, he was a terrible father and though he was gone for the majority of the time, I'd have shown some interest in this character - if he wasn't such a jerk. Besides the boat scene, we might as well have had Luke succumbing to cancer instead.
Julia herself rises up to the challenge and manages to carve out an attractive and charismatic performance and a character who is likeable, sympathetic and well-meaning at the same time, as Isabelle attempts to build bridges and forge relationships with the younger stepkids and trying to win over their love and respect. It is also a performance that shows her worth as an actress and a dramatic actress, Julia Roberts excels and prevails and here she played the part perfectly, without overdoing it. Isabelle provides that spunk, that coolness that the kids can take to with effect and alongside Erin Brockovich, Shelby Eatonton and Katherine Watson, is another one of Julia's impressive dramatic performances. Susan Sarandon, in the anchor role, is both heartbreaking and diligent as the mother who has difficulty accepting Luke and Isabelle's relationship and yet she also doesn't have

time on

her side, as the devastating effects of cancer take effect. Whilst Stepmom will hardly qualify as a major career highlight for either Sarandon and Roberts, both actresses possess that extra quality to elevate the film - if not for their acting legacies.
As usual by Columbus, the film is laden with schmaltz through the music, which is also balanced out with the statements about family and life, but it is also something that I could get by, thanks to the main performances.
Summary
Pros +
- Wonderful performances by Susan Sarandon and Julia Roberts
- Chris Columbus's direction gives the film some quality
- The kids were all right
- Is watchable and has some nice moments, most of them with Julia in them
Cons -

- Script lacks bite
- Uninspired compositions by Chris Columbus
- Was taken aback by Isabelle and Luke as an odd couple & wasn't fond of Luke
Final Verdict:
The slightly makeshift screenplay could have used more work and it is only through the instrumental turns by Julia Roberts and Susan Sarandon that pretty much elevate the film further. Stepmom is a rather earnest effort and other than the somewhat (icky) relationship with Julia Roberts's Isabelle and Ed Harris's Luke and basic material, the rest of the film has prominence and watch-ability.
The performances by Roberts and Sarandon make up for the film's relatively restrained material, which needed more lively scenes.
Those of you susceptible to sentimental dramas will enjoy Stepmom, and whereas Julia Roberts has starred in far superior films than this one, as ever, she does deliver a performance that shows the range and depth she has as an actress.
Stepmom
has received scathing reviews from many reviewers and critics alike - yet whilst I don't think it is an extraordinary film, it is nonetheless, at times, thought-provoking and forces us to put aside our problems, feelings, differences and come together, honestly and in healing ways. & it is all masked within this glossy- if slightly formulaic tear-jerker.
Overall: